Let's STEAKing - YOUR STEAKHOUSE IN THE CENTRE OF BRNO
JOIN US ON A CULINARY JOURNEY
We will offer all your senses an extraordinary experience. Apart from delicious steaks, you will also appreciate the pleasant interior of our restaurant located right in the centre of Brno. The exquisite combination of flavours, aromas and unique atmosphere will quickly win you over, both through the lunch menu and into the late evening hours.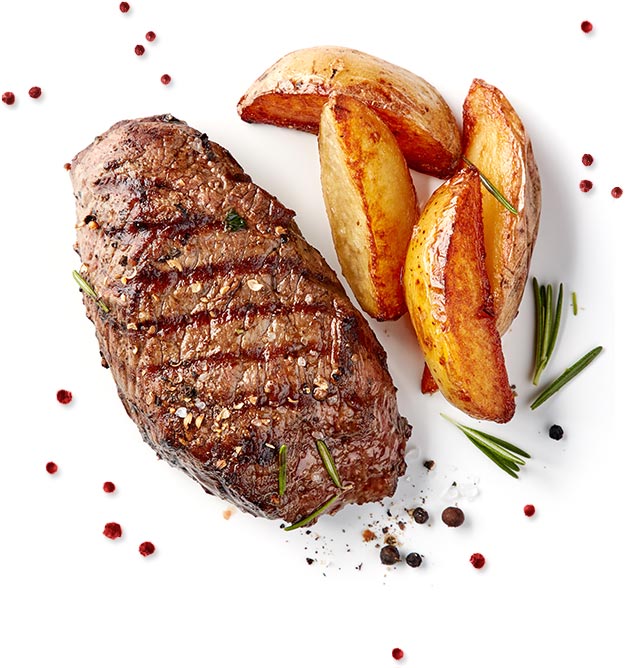 WE OFFER
Come and have a place in the outdoor dining area of our restaurant today and enjoy summer specialties. Or you can just cool off in this warm weather with a well-chilled beer.
For reservations call 702 200 201 or write. We look forward to your visit.♥️
STEAKS
We carefully select meat for you from the best foreign and Czech farms. We emphasize the quality of prepared meats, which we carefully select for you.
SPECIALITY OF THE HOUSE
Try our BBQ chicken wings, Texas-style pork ribs or beer snacks.
BURGERS
Our juicy burgers made from quality beef, baked homemade buns and lard-fried steakhouse chips, this is an American classic.
PREMIUM SPIRITS
You will find Rums not only from the Caribbean but also a variety of Whiskies, premium Vodkas, Gins and Tequilas in our wide range. Our bartenders can mix all of these spirits into delicious cocktails or recommend the ideal way of serving.
BEER
Good food also comes with good beer, and for us, a well-served beer is a commitment. On our tap you will find Pilsner Urquell and Radegast.
WINE
In our offer you will find mainly wines of Italian origin, but also delicious Spanish wines from the Rioja region. Quality Moravian wines from the best Moravian winemakers are a matter of course.
WATCHING LIVE SPORTING EVENTS ON TV
In our restaurant you can enjoy not only good food, but also the star-studded Champions League, the Czech FORTUNA : LIGA or the Tipsport Extraliga. Prestigious tennis tournaments, combat sports, basketball or motorsport.
PARKING IN THE VELKÝ ŠPALÍČEK - UNDERGROUND CAR PARK
Residential parking will not stop you. The camera will register you while you are driving, but when you enter the garage, a second camera will take a picture of you and the system will evaluate it as a permitted entry. So you don't have to worry about any fines. In addition, this building and car park will be accessible all day, which was not the case before.